So, what's the big deal about April 15th?!!
The big deal is, John Q. Public. That's the date that one of the ballsiest and best players in the history of the MLB world broke the "color barrier." On April 15th, 1947, Jackie Robinson was hired by Branch Rickey to be his 1st/2nd Baseman for the then Brooklyn Dodgers. Needless to say, many a good ol' racist bumpkin in the South and otherwise hated this move. As the one man who brought the style of the Negro Leagues to the forefront, Jackie is remembered as two things to everyone now. Hall of Famer and a Legend.
When he was in his prime, he said this one statement. "I'm not concerned with your liking or disliking me... all I ask is that you respect me as a human being." Many people did just that. When the Phillies and their manager spouted out the n-word every chance they could get at Robinson, all 30 Dodgers united as one to shove a win down Philadelphia's collective throats.
Also, Pee Wee Reese was the one man on the Dodger team who stood up for the young Jackie, daring any bigot to come through him if they had anything to say. Considering the man was from Ron's hometown of Louisville, KY, that was saying a hell of a lot. This would later develop Jackie and Pee Wee into the SS/2B double play combo that everyone feared playing against.
To tell the whole story of 9 years of greatness, that would take too long on this site. Also, to be honest, we couldn't do any of it justice.
On April 15th, Dodger Nation will see an entire team of just one number for one day. One player from each team will be wearing this same number for this one day. In my opinion, about time Selig did something right.
So, to commemorate this event of the 60th anniversary of Jackie Robinson's start, we're posthumously putting in Mr. Robinson in the Pantheon of Badassery. And on the fifteenth, only one number needs to be said and seen to tell you what impact that one brave man from Cairo, Georgia had on MLB...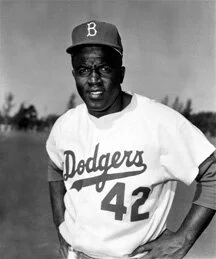 Long live 42.