Best Wishes, Billy Packer. You Don't Have To Go Home, But You Can't Stay On CBS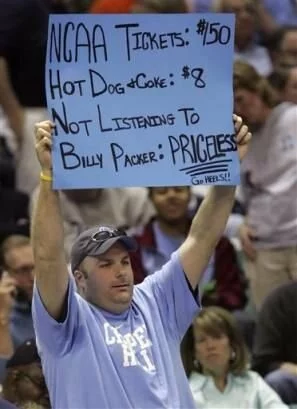 I hate to be that guy, but I absolutely cannot stand Billy Packer so I won't be terribly sad to see him not cluttering up my screen during March Madness. With his ACC suck-off tendencies, his dismissal of legitimate mid-major teams like George Mason, and his blatant old-fartism, his knowledge of the game was second only to his ability to piss me off and take the fun out of sports. That said, it is going to be weird watching CBS hoops without Billly Packer.
It'll be like watching an ESPN game and not having Dick Vitale screaming at me. Interesting how Billy and Dick are two of the most polarizing figures in basketball broadcasting today. One, because he plainly loves the game just a little too much to be completely sane, and the other because he used to love the game, but now seems to take extreme joy in being a stick in the mud with no sense of fun.
Now we're all safe to go back to talking about that other Packer who can't stop unretiring.
Nice image grab courtesy of Rush the Court.