The Pink and Black Attack
These have probably been around awhile, but I'm just now noticing them. For the uninitiated, they now make pastel-colored jerseys for the lady sports fan in your life.
That's right, girls; now you can support your boyfriend's favorite team while still looking like you know nothing about sports by wearing a shirt so gay that even Richard Simmons will fag-bash you for it! Fellas, you can buy your lady something sparkly and pretty without embarrassing yourself in the ladies' lingerie department of your local department store (they still haven't forgiven you for the mannequin incident, anyway).
That's where East Bay comes in, with these fetchingly tapered and bejeweled jerseys for the fairer sex. Well, at least the ones who aren't built like nose tackles. The NFL Fashions Glitter line of clothing gives you all the fun of a woman's football jersey, without actually making you buy one of the real replica women's jerseys available! Who needs pewter, black, and white when you can have pink, crocus, mint, and guava!
But don't take my word for it, let's talk to the athletes, coaches, and team officials themselves!
"Bitch, enjoy this Ron Mexico jersey. It's as pink and white as the pus-discharge from your pussyhole will be after tonight." – Michael Vick
"I authorized this Derrick Brooks jersey for the same reason I started Derrick Brooks Charities, to fuck me a lot of single mothers. I loves me the MILFs!" – Derrick Brooks
"Finally, a jersey less lame than our real jerseys! I'd wear this with pride! Gay pride!" – Jake Delhomme
"Sometimes, you just have to get the mother of your interracial baby in a four-point stance, and this outfit will remind her that you want your mike linebacker head down ass up." – Brian Urlacher
"Let your baby wear Larry Johnson while you're introducing her to your hairy Johnson. Hit that hole hard, son!" – Larry Johnson
"Almost as pink, tight, and glittery as Jake Plummer's real wardrobe!" – Jay Cutler
"Learn from my 'Mistake on the Lake,' and always pull out." Kellen Winslow's dad, Kellen Winslow.
"Originally this was a prototype for the new UNC basketball jerseys, but I overpaid for it on the free agency uniform market." – Jerry Jones
"Oh snap! The Cowboys Roy Williams girlie jersey looks like my regular jersey! Hmm… I wonder if they could add some ice to my kit, too. Football uniforms don't have enough bling, even with the silver pants." – Roy Williams (Lions edition)
"We went with bright colors and rhinestones on this jersey in the hopes that the other teams would stop running him over and start feeling sorry for David Carr." - Gary Kubiak
"Ahh, I see they gave Alex Smith Jeff Garcia's old practice jersey." T.O.
"The pink Tom Brady jersey, because I think all us New England fans regardless of sex fantasize about The World's Dreamiest Quarterback. Goat not included." – Bill Simmons
"Buy your girl this Ben Roethlisberger jersey, because she can't take a shot to the head either." – Chauncey Davis
"With this pink McNabb jersey, your girl is guaranteed to suck until she chokes, too." - T.O.
"I'm the only member of my team allowed to be within 500 feet of the lady's dressing room at Target." – Darren Sharper
"Why Zach Thomas? Because the rest of my team fucking sucks." – Nick Saban
"The only difference between your lady and Chad Pennington in this fetching mint green jersey is that your lady can throw the deep out." – Herm Edwards
"Pick your lady up the Peyton jersey. That's P-E-Y. Sometimes when you're lined up under center and you're staring down at your girlfriend's nethers, you just get the urge to call a backdoor audible at the line of scrimmage. Anal! Check it to anal!" – Peyton Manning
"The Eli Manning jersey is for the girlfriend of a man who doesn't go limp when the pressure's on. Talk about a coming from behind victory." – Eli Manning
"The Clinton Portis jersey, resplendent in yellow and rhinestones, is a thing of magnificent beauty." – Sheriff Gonna Getcha
"Ow, my knee! Damn you, John Madden!" – Shaun Alexander
"I haven't decided one way or another if I like this jersey yet. I mean, I like it, but at the same time I'm not sure I like it. Granted, your wife might be kind of over the hill. Maybe she's not as lithe and mobile as she once way. Maybe she's had a few problems over the years with taking too many pills and not exactly keeping the ball away from the other team. Maybe she's not at her best anymore, but neither are you. What other option do you have? Somebody's gotta keep dinner on the table, and somebody's gotta give the fans a reason to show up to the games." – Brett Farve
"They couldn't have found a way to keep the orange kitty stripes motif on this jersey, too? I mean, I kind of liked feeling like a big pussy." – Carson Palmer
"Guaranteed to get you filled out like an application form by Darth Raider and the rest of the Black Hole gang." – Randy Moss
I can understand the urge to support your favorite team while still wanting to be a woman. I understand that maybe a traditional jersey is too boxy for your flowing feminine curves. That's why you wear one of those skin-tight Under Armor pieces in your team color, or get a normal women's fit jersey, or buy a fucking teeshirt.
Even though these women's jerseys are as colorful and impressive as the Easter Bunny's vomit after a meal of broken glass, I won't be too harsh, because at least you're not pulling a Brady Quinn's sister.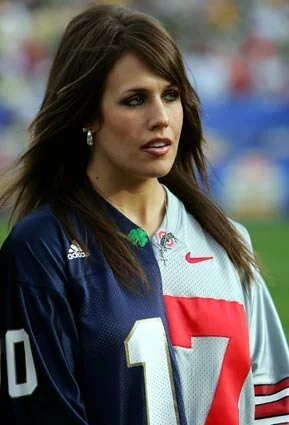 Trackback
There are currently no trackbacks for this item.
Use this TrackBack url to ping this item (right-click, copy link target). If your blog does not support Trackbacks you can manually add your trackback by using this form.