The OC: Original Clarett
Way back when, Rich and I did a little article called "
The Maurice Clarett Memorial Mug-Shot Top 10
." We had fun with a few guys, cracked a few jokes, and a good time was had by all (well, everyone who wasn't killed, robbed, or beaten by the miscreants mentioned in the post). Unfortunately, we left off one person. Hell, we should've named the award after this guy, but he slipped our minds because it's been a few years since he reminded us just how crazy he is.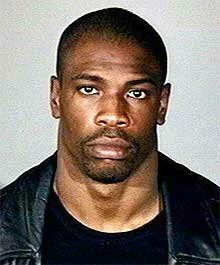 Ladies and Gentlemen: I present to you Mr. Lawrence Phillips. That's right, he's back and crazier than ever! Boy, how we've missed him, too.
Like him or not (we fall in the not category), Lawless Phillips was always good copy. Was he dragging his ex-girlfriend down the stairs by her hair 'cause she was humping another dude? Choking a girlfriend to the point of unconsciousness? On the run from other assault charges?
Maybe he was doing something good, like when he was the sixth overall pick in the 1996 draft? Or in 1999 when he set NFL Europe records for rushing and touchdowns with the Barcelona Dragons? Hell, even in 2002 he helped win a Grey Cup in the CFL!
Anything was possible with this guy, up to and including him getting mad about a pickup football game and driving his stolen car through a group of kids ages 13-24, running down 3 of them and narrowly missing the other four because, get this, his team was losing. To call this guy a head case is an insult to notable workaholic head cases like Dennis Rodman and Bill Romanowski.
With Dennis and Romo, at least you knew they were coming to play. With Lawrence Phillips, it was a crapshoot. Would he run for 100 yards and a couple of TDs? Would he let himself get fat and lazy, like he did at Nebraska? Would he break a league record? Maybe he'd get cut from 5 teams for insubordination, missing practice, and general back-talking?
Perhaps the one game that sums up Phillips, like none other could, is the third game of the 1999 season, when Lawless was with the San Francisco 49ers. Phillips, as you may not know, was the guy who completely whiffed on a block, allowing Aeneas Williams to end Steve Young's career with a monstrous hit. Later that same game, Phillips ran past the very same Williams for a 74-yard game-finishing touchdown.
Phillips, like Maurice Clarett, was magnificently talented and spectacularly self destructive in turn. Dick Vermeil once called him potentially the finest running back he'd ever coached, before weeping like a woman that'd been kicked in the gash. A spectacular runner and a troubled young man who grew up to become a troubled old man, Phillips was Maurice Clarett before Clarett was even born. We won't forget to give Law his props next time around.
Trackback
There are currently no trackbacks for this item.
Use this TrackBack url to ping this item (right-click, copy link target). If your blog does not support Trackbacks you can manually add your trackback by using this form.