Vince Young Wants To Put His Meat In Your Greasy Mouth
I can't wait for this informercial!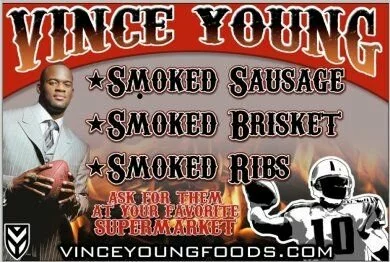 "After sucking down many many sausages in my life, from my first wiener at summer camp when I was 12 to the kielbasas I swallow today, there is nobody in the NFL today who has smoked more meat than me. That's why I started Vince Young's Meat Company. No matter what kind of meat you want in your throat, from Vienna sausages to footlongs, I can find it for you and stuff it into your facehole. I personally have sampled every length and flavor of meat I could get my hands wrapped around, so I know what qualities you're looking for no matter your appetite. I wouldn't stick it between your buns if I hadn't eaten it myself first!"
Something tells me that LenDale White is VY's best (and only) customer. Then again, unless VY is slaughtering 150,000 head of cattle a year, there's no way he can keep up with the human food dumpster that is LardDale.
Trackback
There are currently no trackbacks for this item.
Use this TrackBack url to ping this item (right-click, copy link target). If your blog does not support Trackbacks you can manually add your trackback by using this form.