Those Wonderfully Racist Japs
Dear Hichori Morimoto,
Please come to America, win Gold gloves, and wear things like this. You'd be exactly what American baseball needs to distract from Barry Bonds, Roger Clemens, and the trackmarks in Lenny Dykstra's mullet region.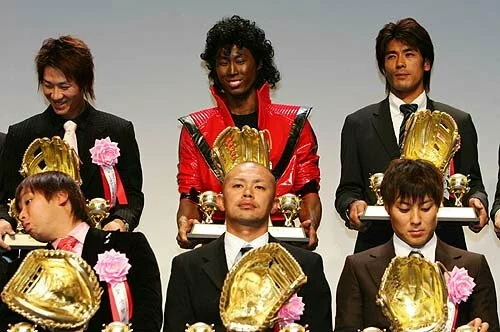 You're the man. Seriously, don't let anyone change you. Continue to be as crazy as you want to be. Wear stilts, wear that Conehead hat, and continue to dress as Piccolo from Dragon Ball Z. Better yet, do all these things at the same time! You're like a funnier Chad Johnson or a less-creepy Carrot Top.
Cheers,
Ron
Trackback
There are currently no trackbacks for this item.
Use this
TrackBack url
to ping this item (right-click, copy link target). If your blog does not support Trackbacks you can manually add your trackback by using
this form
.