End of an Era or a Road to Old Beginnings?
Seeing as this is my first post, allow me to introduce myself. I'm God. Ok, I'm not. Please Lord, don't smite me. I know not what I spe...err...type. But yeah, I'm Luis, and I'm awesome. Got a problem with that? Tough luck. Am I better than you? Probably. But that's not why I'm writing this. This particular post is about one thing: tennis. Or more specifically, Andre Agassi. I don't know much about tennis, and I usually don't watch it unless it's female tennis, but I know Agassi. Why? Well, that's because he was my former substitute gym teacher.
What? OK. So he wasn't, but I did have a substitute who claimed to be Agassi. I admit, the two had a striking resemblance. Bald-head. Ugly looking dude. I don't remember the teacher's name, but I do remember he called himself Agassi. So, yeah, I wasn't planning on making this long, or making this have much of a point to it, so I'm going to rap this up. And by rap, I mean wrap. I can correct myself, alright? No need in trying to do it for me. So yeah...Agassi may have finally retired from tennis, but if he wanted to, I'm sure he can get a job as a substitute gym teacher. I mean, if the sub I had passed for him, I'm sure the same could have been done the other way around.
Goodbye Agassi. You were a great tennis player, but you were an even better gym teacher.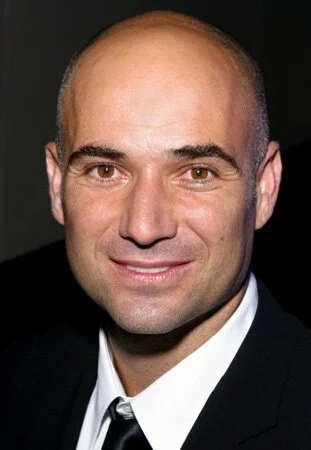 (PS. If you thought this sucked, too bad. Because I live on randomness and to annoy you in every way possible. Your mother folds socks in hell!)
Trackback
There are currently no trackbacks for this item.
Use this
TrackBack url
to ping this item (right-click, copy link target). If your blog does not support Trackbacks you can manually add your trackback by using
this form
.