The next entrants into the PANTHEON OF BADASSERY!
Previously in our Pantheon, Ronald honored the gutsy son of Phil Simms. Chris Simms etched his way into the Pantheon by playing through a game not realizing that his spleen has ruptured and failed. He ended up leaving that game needing a blood transfusion. Now that we have our bust of Mr. Simms, it's time to add a new entrant. However, this time I'm adding two entrants. These men are from two SEC teams. One from Auburn. The other from U of Georgia.
Quarterback Brandon Cox and Defensive Tackle Dale Dixson are beasts on the college football field. Cox might be on an 6-1 Auburn team that lost to Arkansas, but the score doesn't matter to him. Being upright is all that matters.
Dale Dixson also shares this thought. He's in an even worse position to be in. Dale is the starting Nose Tackle on a fierce UGA defense that's going 5-2 this season. Although his UGA Bulldogs lost a couple of heartbreakers to the TN duos of UT and Vanderbilt, the score doesn't matter to him at the end of the day.
So, you ask, why doesn't the score matter to either man, because they've been playing a life or death game before they even thought about getting into college...
Brandon Cox was a rising football star in Trussville, AL. One fateful day in practice, Brandon collapsed in a heap. None of the doctors knew what the hell was going on with this seemingly healthy 15-year-old kid. His left eye drooped in a near paralysis. He couldn't go out into the sun without crying in pain. He was tired. Death on his doorstep tired. Then the doctor told his parents the news. Myasthenia gravis, an old man's disease.
Brandon's parents didn't know what that meant. As they were told that their son would never lead a normal life, the parents learned of what sacrificies had to be made to keep him alive. Much less mobile. The doctor then told them, "Keep your boy away from any stress, contact, trauma, or fatigue." Brandon decided to ignore that statement.
Let's go to present day. Brandon Cox is on the national stage. They said Auburn couldn't beat the mighty undefeated Florida Gators. The players are the best in the SEC. Urban Meyer is one of the top 10 coaches in the nation. You can't win, Brandon. You and Tommy Tuberville can't win this game. He decided to tell the critics to shut the fuck up. Brittle bones and weakened muscles, he led his team to a 27-17 win over the mighty Gators in Auburn's house. Hey doc, time to re-evalute that statement.
Dale Dixson on the other hand was screwed since his elementary school days. He was weakened from the time he was in the first grade. Little Dale couldn't keep his eyes from twitching. They took him to the local doctor in Garland, TX. The doctor told them, "Your boy has MG. I'm sorry..." Dale was then told in middle school to never play football. He defied those orders and then some.
He rose up in prominence at Garland High, but the injuries kept coming. By the time he got to Athens, GA to play for the mighty UGA, he was paying the price. Over his five years at UGA, he has accumulated a pulled hip-flexor, groin, and hamstring pulls. He also recieved a ruptured patellar tendon. None of his coaches knew of what MG could do to a man until now.
His D-Line coach, Rodney Garner, decided enough was enough. He told the young man, "We're a team, Dale. You've done enough sacrifcing of your body. It's our turn to do it with you." He forced Dale to recognize when enough was enough. A twinge could turn into a pull. A pull could be a tear. In Dale's condition, giving up that inch would force him to fall even further down from his progress he's made.
While Dale's experienced the lows of defeat by Tennessee and Vanderbilt, he walks off the field in the hopes there is a next game for him to get up to. Yet, there's one game he's looking forward to.
On November 11th, UGA and AU will square off like they have before at Jordan-Hare Stadium. However, both men have sworn to meet each other after the game is over. Other than being brothers in the same fight, now they're brothers in the Sports Bastards Pantheon.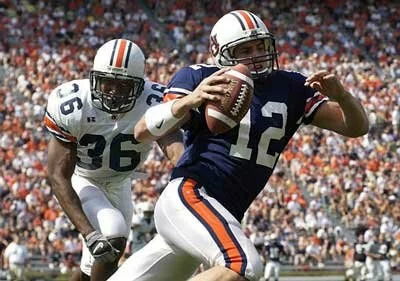 Mr. Brandon Cox
Mr. Dale Dixson
Take your place among the Pantheon, gentlemen. You've fought a lifetime. If you never get to the NFL, you've already shown more manliness than most of the whiners there. You are now declared
Immortal Sports Bastard Badasses.
Trackback
There are currently no trackbacks for this item.
Use this
TrackBack url
to ping this item (right-click, copy link target). If your blog does not support Trackbacks you can manually add your trackback by using
this form
.