Rocket Attack On The Pitch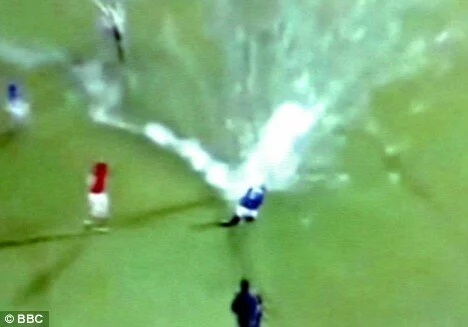 Conor Hagen, a 26-year-old player for IFA Premiership team Linfield in Ireland, was the unfortunate target of a rocket attack just moments after his side lost the County Antrim Shield to hated cross-town and cross-religion rivals Cliftonville.
The Daily Mail has the rest of the insane pictures.
It's really staggering that, after the hundreds of years of religious warfare in Ireland, fans can still get into stadiums with fireworks. Given how American fans get patted down, metal-detected, and cavity-searched these days, you'd think that the Irish would get even more intense security screenings. Apparently they can't be that good, as someone managed to sneak in and blast a player with a bottle rocket.
Trackback
There are currently no trackbacks for this item.
Use this
TrackBack url
to ping this item (right-click, copy link target). If your blog does not support Trackbacks you can manually add your trackback by using
this form
.