The BCS Dare.
Alright, those of you who've read this site for the past five months should realize how much Ron and I hate tOSU. In fact, we dubbed it the "best damn paid for team in the land, that didn't want to go to USC." I'm still sticking by that insult. In fact, I'm sticking by it so much that I'm going to "man up" in my belief that Troy Smith needs to leave the field via stretcher. Thus the "Fuck Ohio State" bet that I'm having with Amy...
Who is Amy?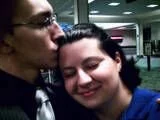 Cute, ain't it? I'm getting in my insulin shot looking at that picture. (Be aware that I love her and A-Rock to death, but still... Emotional, I ain't.)
Amy is a pure "Scarlet and whatever fucking colors tOSU decided to pick up along the side of the road" girl. As for me, as much as I insult the SEC/Bubba League, I'm still a Southern boy willing to stand up to this Yankee yapping. It's time for the bet.
If tOSU fucking wins, I get to humiliate myself right here in front of all of you by soiling my body with a fucking tOSU shirt. And folks, I'm tattooed. Trust me, the tats hurt less than wearing that shirt.
If Florida defends the honor of the South, Amy gets to march her cute little ass in front of a camera with a Florida Gators shirt on. (Don't worry, dear, I'll get you a pink one if you need it in that color.)
In other words, kids. You better pray to baby Jesus that Florida wins. I become even more bitter when I lose bets. I'm sure a certain queer webmaster and a couple of Vandy fraternity fags are hoping that day never comes...
Gator Chomp, bitches!
Trackback
There are currently no trackbacks for this item.
Use this TrackBack url to ping this item (right-click, copy link target). If your blog does not support Trackbacks you can manually add your trackback by using this form.